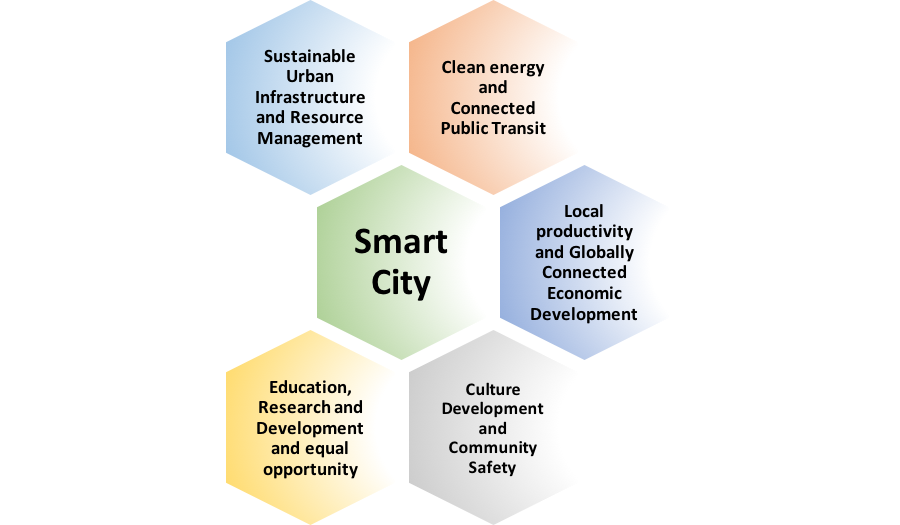 Building Components of a Smart City
How we define a smart city today is different for most of us. In this era of smart gadgets and ubiquitous connectivity, most of the times we describe it as information communication technology driven development which will be enhanced by cloud connected devices. Building intelligent interactive environments with
embedded systems
into physical objects, infrastructures, and the surroundings in which we live, travel, and work.
Artificial intelligence and Internet of Things is the cutting edge requirement in every product development today but if we see the big picture, a Smart City should be really described as a self sustaining city which is not only well connected with public transit, smart buildings with energy management devices but zero waste, uses renewable energy resources, stimulating
economic growth
, reducing poverty. In nut shell a city with a smaller carbon footprint. There are various indicators used to rank a smart city. These indicators as presented by various research groups that measure the city include built environment, mobility, government policies, economic development, education, well being and life style.
We need to remember the real thing is using our resources efficiently – reduce, reuse and recycle items used in our daily life. Purposefully using waste materials for building and manufacturing products. Some examples are use of dual purpose elements like a building integrated photovoltaic glazing which provides renewable energy onsite and reduces material usage, using recycled materials in manufacturing, including the use of water efficiently or passive designing of city infrastructure for less need for air conditioning in summer and winter seasons and a well connected and easily accessible public transit to reduce traffic congestion and reducing GHG emissions. Reducing waste would be a key to reducing landfills in our city to reduce contamination of our water resources and vegetation. Similarly, for growing local agriculture buying more locally grown produce encourages local farmers and builds local economy. As developers and designers we need to think about these best practices when we develop a smart city infrastructure. Well connected urban infrastructure and suburbs designed efficiently which use less energy.
A smart city means a hi-tech intelligent city which can sustain population growth and provide job security for all community members. Transitioning to an automated city is a dream to move ourselves to a space-age era but carefully thinking of an economically well integrated city development plan will make it successful in years to come. Urbanization and well organized suburbs for community development increases the well being of the inhabitants.
A smart city is prepared to restore itself after any disaster. How well a city is digitally able to restore its connectedness, mobility, energy and water services is the most important factor of ranking a city to be an intelligent city. There is a need to provide education to the public to diminish any aspects of creating a digital divide which is an
economic
and
social inequality
with regard to access to, use of, or impact of
information and communication technologies
. We are looking in future for an intelligent environment where every device is seamlessly connected providing user friendly/ accessible experience for all classes. The more enriched and connected the community the more growth we see. Active community neighborhoods with cultural bonding plays an important role in a city development. A city which makes everything accessible at your fingertips, is well connected, energy efficient and with flourishing community is why we need to build more smart city's in future.